Ordering doughnuts shouldn't be rocket science, or climbing mountain Afadzato. We hate to sweat, happy to delight, but more, we love to surprise.
For whatever the reason to make an order, birthday, anniversary, surprise, specialised message or just to indulge a craving, our ordering process is simple, really!
Firstly, have a look at our menu and decide what your doughnut package should contain.
Our menu is divided into categories, sugar/plain, classic, premium and creamy deluxe. These are priced differently and differ in the variety of toppings and/or fillings you can have in a box.
Our doughnuts are ordered in packages(sets) of 6, 12, 15, 20, etc. For each category, you can specify which toppings/fillings you want under that category. There are several toppings to choose to choose from in our menu.
Our full pricelist can be found here.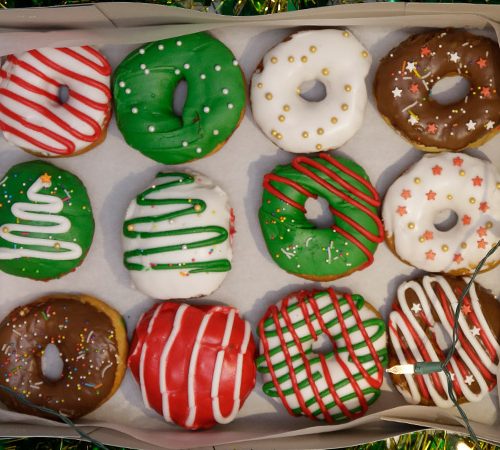 Once you've decided on a package, you need to let us know. We're reachable via phone, WhatsApp, Facebook and Instagram Direct Messaging. Once a connection is established, let the agent know what your choice is.
We love to take your order so if there's no response when you call, or message, 99.9% of the time we're attending to other customers; so please, do not quench the craving, let's connect and get that order through.
Our contact details are as follows:
Phone : +233 274 01 03 29
Phone : +233 201 100 533
Phone : +233 ‭24 611 3536‬
Facebook : Dough Man Foods
Instagram : dough_man_foods
WhatsApp : +233 201 100 533 || +233 274 010 329
After letting us know what your order is, we would like to know the following details. If it's someone else receiving it, we will need those of the recipient's as well;
Name of recipient (it could be someone else)
Phone Number (yours or whoever is receiving it). The dispatch will call this number for directions and when he arrives at the destination.
Delivery Location (please add descriptive landmarks).
[optional] Message or an indication that shows you are the one who sent the order. In case it's a surprise, please let us know.
Often when a third party is unreachable we'll call the sending party to try to get us another number(or means) for us to reach the recipient.
The final step is payment. Before we consider an order as finally placed, payment is the grand finale.
For now, we accept cash on delivery or mobile money.
For mobile money, please make payments to:
MTN – *170# > Send Money > MoMo User > 055 795 6166
‬Vodafone Till Number  – *110# > Buy Goods > 128453
AirtelTigo – *501# > Pay Bill > Pay to number > 0274010329
For third party apps, make payment to MTN 055 795 6166
Whenever making payments to Dough Man Foods, the name on the mobile money account is Dough Man Foods.
When paying via mobile money, the reference should be the ORDER NUMBER or the name of recipient and delivery location. Insist on an order number from the agent that receives your order.
Please send a screenshot or let an agent confirm receipt of the mobile money transaction.
For timed deliveries, kindly allow a range for the delivery man to arrive. Several other circumstances may prevent the dispatch to arrive at the exact time.
Custom orders require more time to prepare. Kindly be advised to be patient when making a customised order.
To report a frustration or inconvenience, please channel complaints to

[email protected]

.